In case you haven't noticed, I love tofu! It's a great source of plant protein, is incredibly versatile and can be added to just about any meal. I've gathered up 25 of my favorite easy vegan tofu recipes that are perfect for beginners or experienced plant based home cooks.
Maybe you love tofu but keep making the same few recipes over and over again? Maybe you've never tried tofu but aren't sure where to begin? New to the vegan lifestyle or maybe you're looking to incorporate more plant based protein in to your diet? Whatever reason landed you here, you're in the right place if you're looking for easy vegan tofu recipes that are family friendly, great for beginners and taste amazing!
Tofu is one of my personal favorite foods. But…tofu got a bad rap for being flavorless and boring. It definitely can be those things if you don't prepare it correctly.
I feel like most of us have experienced that bland, spongy tofu that we were served at a non-vegan restaurant that was cooked by a chef who didn't know a thing about properly preparing tofu. No dig to them! It can take some practice to master but if you think of tofu as a blank canvas that is there to soak up flavor then it get's easier. In this blog post, I'll show you 25 Easy Vegan Tofu Recipes for Beginners so you never have to eat bland and boring tofu ever again.
There are many many different varieties of tofu and these delicious tofu recipes below are made up of either silken tofu, soft tofu, medium firm/ firm tofu, extra-firm tofu and super firm tofu.
---
25 Easy Tofu Recipes
I've gathered up the Best Tofu Recipes on my blog that are simple to make and perfect for beginners! Below is a list of vegan tofu recipes ranging from easy weeknight meals to snacks and sauces. You'll find vegan chicken nuggets, curries, stir fry, vegan sour cream and so much more. You're sure to find a tofu recipe that's right for you.
---
These are the best Crispy Tofu Nuggets ever! These vegan chicken nuggets are crispy on the outside, nice and soft on the inside, simple to make and perfect for kids and adults. The tofu is pressed then dredged in a wet batter and coated in panko breadcrumbs, cornmeal and seasonings then baked or fried to perfection.
---
This Crispy Tofu Rice Bowl with Peanut Sauce has been my favorite easy weeknight dinner to make. This easy recipe is made up of extra firm crispy tofu, flavorful Thai peanut sauce and fresh toppings. This dish is incredibly customizable and is great for cleaning out the leftover veggies in your fridge.
---
Crispy cornstarch coated tofu, sautéed onions, roasted red bell peppers, vegan mozzarella cheese, fresh basil, and the best vegan pesto combined to create the most flavorful and delicious Vegan Tofu Pesto Grilled Cheese Sandwich. Fancy twist on the classic childhood favorite.
---
This Baked Sesame Garlic Tofu is flavorful, simple to throw together and perfect for a quick and easy weeknight dinner. This sauce is flavorful and delicious and is made-up of soy sauce, lime juice, a hint of maple syrup, and garlic. The baked tofu gets tossed with vegetables and the sauce then finished with toasted sesame oil and sesame seed.
---
This delicious Vegan Butter Chicken dish is what homemade takeout dreams are made of. Tasty and flavorful tomato, coconut cream, and butter based sauce tossed with crispy tofu and served with basmati rice, cilantro, and the best vegan naan ever. Put this tofu curry in the dinner rotation right now! So. Damn. Good.
---
The Best Vegan Sour Cream requires simple ingredients and is ready in 15 minutes! This quick and easy cashew tofu based sour cream is thick, creamy, rich and tangy. It also happens to be dairy free, vegan, easy to make and tastes way better than store-bought.
---
Making takeout at home is made simple with this sticky teriyaki tofu stir fry recipe! Tasty fresh crisp vegetables and baked tofu coated in a sweet & spicy teriyaki stir fry sauce… Doesn't get better than this easy tofu stir fry. It also happens to be a great way to use up leftover veggies!
---
Vegan Orange Tofu is what I make when I've been staring at the fridge for a little too longer wondering what the heck is for dinner? This tofu dish is always delicious, takes no time to whip up, and is full of ingredients you most likely have on hand already.
---
This Vegan Potato & Caramelized Onion Galette makes me so happy. The smell of this galette coming out of the oven is heaven. The crust is incredibly flaky and buttery and filled with layers of potatoes, caramelized onions, the creamiest coconut and tofu sauce and fresh thyme to finish it off. It's absolutely amazing and surprisingly easy to make.
---
This Vegan Lasagna Soup recipe is loaded with Italian sausage inspired tofu crumbles, lasagna noodles, and a delicious tomato basil broth. The tofu ricotta topping makes it extra amazing. Enjoy!
---
These Chinese-inspired tofu steamed buns have it all. A fluffy pillowy soft dough, finely chopped tofu filling, and a mouth watering sweet and savory soy based sauce. They're so delicious and actually quite simple to make!
---
If you love sweet and savory, this recipe is for you! Crispy pan-fried tofu tossed in a sweet chili sauce mixed with soy sauce, sriracha, green onion, and sesame seeds served over white rice, brown rice or cauliflower rice. Perfect for a quick and easy weeknight dinner.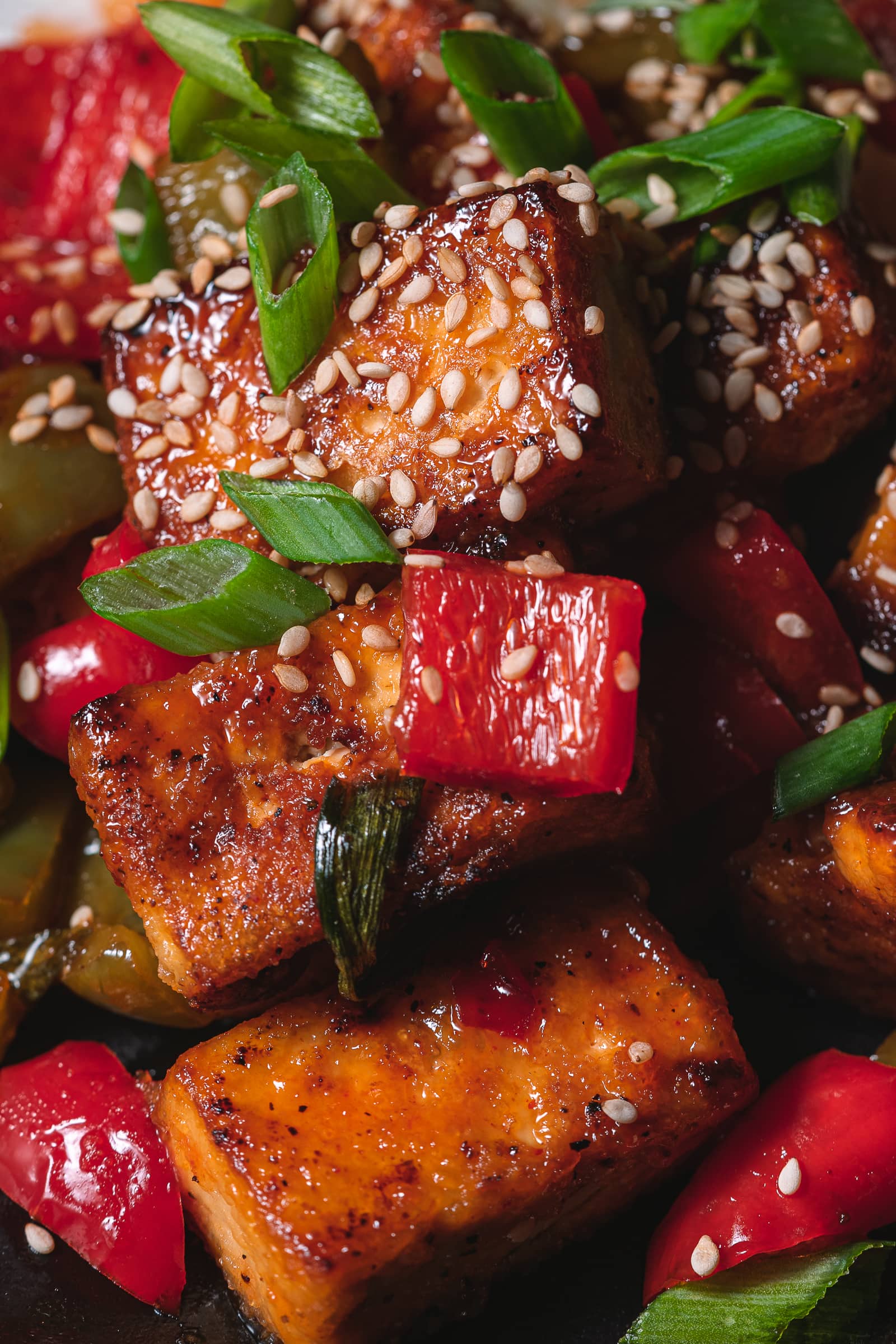 ---
These Tofu Ricotta Stuffed Shells are fun to make and perfect for a fancy at home date night. Serve with garlic bread, steamed broccoli or a side salad and a glass of wine! I hope you enjoy.
---
I've made this easy vegan recipe for Vegan Chicken Tikka Masala more times than I can remember. This and my Vegan Cheese Stuffed Naan are a match made in heaven and one of my favorite cozy dinners to make when I'm craving take out. Saucy tomato coconut cream based sauce and marinaded tofu served over a bed of rice and fresh naan. This one will become a staple in your house!
---
This Vegan Roasted Garlic Oil-Free Aioli recipe comes together with just a few simple ingredients to give you the perfect condiment to put on sandwiches, burgers, grain bowls, and salads or can be used as a dip!
---
More Easy Tofu Recipes to Try:
---
Frequently Asked Questions:
How should tofu be cooked?
Tofu can be cooked by baking, pan-frying, braising or using an air-fry. It can be added to soups, stews, stir-fries, curries as well as blended in to sauces and desserts.
What's the easiest way to cook tofu as a beginner?
Baking or pan-frying is the easiest way to cook tofu as a beginner. Toss in cornstarch and seasonings to create a crispy coating before pan-frying on medium-high heat or baking at 400F for 20-25 minutes.
Can I microwave tofu?
Yes, microwaving tofu will dehydrate it and the texture will become chewy. I recommending slicing and microwaving for about 2-3 minutes and then add time as needed to create your desired texture.
How long should tofu be cooked?
Depends on the cooking method. Pan-frying will only take a few minutes each side but baking will take about 20-25 minutes.
Does tofu need to be cooked?
Technically tofu has been cooked before it was packaged. You can eat the tofu straight from the package or blend in to sauces or dips.
How do you make tofu taste good?
Seasonings!! Season tofu like you would season anything else. Marinate it or coat it in your favorite spices or sauces like teriyaki sauce or basil pesto.
Do I need a tofu press to make good tofu?
I highly recommend a tofu press for convenience. You can buy an inexpensive tofu press on amazon or simply create your own DIY tofu press by wrapping it in paper towels or clean dish cloths and placing in a shallow bowl. Then, stack heavy items on top to drain the excess water. Press for 20-30 minutes.
---
Learn More
I hope you enjoyed these easy vegan tofu recipes and that you found a few that you are excited to try! Please let me know in the comments below if you're a beginner, experienced home cook or just wanting to expand your tofu recipe rotation. Can't wait to see what recipe you try first.
Do you want to learn even more about the different types of tofu and see even more ways to prepare this super versatile plant based staple? Check out my Ultimate Guide to Cooking Tofu to learn everything you need to know about tofu.
---
If You Make Any of These Recipes:
I would greatly appreciate if you share your review in the comments of the recipe you tried and leave a ⭐️⭐️⭐️⭐️⭐️ rating. I really appreciate it- it helps me out so much! Don't forget to add if you made any fun substitutions. Thank you!