These Vegan Roasted Vegetable & Black Bean Enchiladas are sure to impress the whole family! Roasted sweet potato, red bell peppers, and onion are seasoned to perfection and tossed with black beans to create a filling but healthy and flavorful dinner.
The corn tortillas are dipped in homemade vegan enchilada sauce and then filled and rolled and placed in a baking dish. Top with more enchilada sauce and vegan cheese then bake for 20 minutes and top with whatever toppings you enjoy most. I chose pickled jalapeños, cilantro, guacamole, and lime wedges.
I hope you enjoy these vegan enchiladas as much as I do!
Where do enchiladas come from?
The word enchilada means "dipped in chili" and that's exactly what an enchilada is. It's a corn tortilla filled with whatever you desire and then covered in a chili powder-based sauce. Enchiladas were originally created in Mexico. The version I've created today is in no way traditional but is a spin on vegan enchiladas I've had in Mexican restaurants in America.
Kitchen Essentials
Enchiladas come together pretty simple so you don't need any special equipment to make these. You will need a baking dish that can fit 12 enchiladas.
Main Ingredients
Sweet Potatoes
Bell Peppers
Red Onion
Enchilada Sauce
Black Beans
Corn Tortillas
Substitutions
Corn Tortillas: I've seen some enchiladas made with flour tortillas and have even made them with flour in the past but corn is traditional and tastes better in my opinion but flour is a good substitute.
Bell Peppers: You can use any mix of bell peppers you enjoy. I used red and green but orange or yellow will also work.
Red Onion: I like the flavor of red onion in this recipe but you can replace this with yellow onion.
Black Beans: Pinto or Kidney will also work. You could use a mix if preferred as well.
Sweet Potato: If you don't like sweet potato you can substitute this with Yukon gold potato or butternut squash.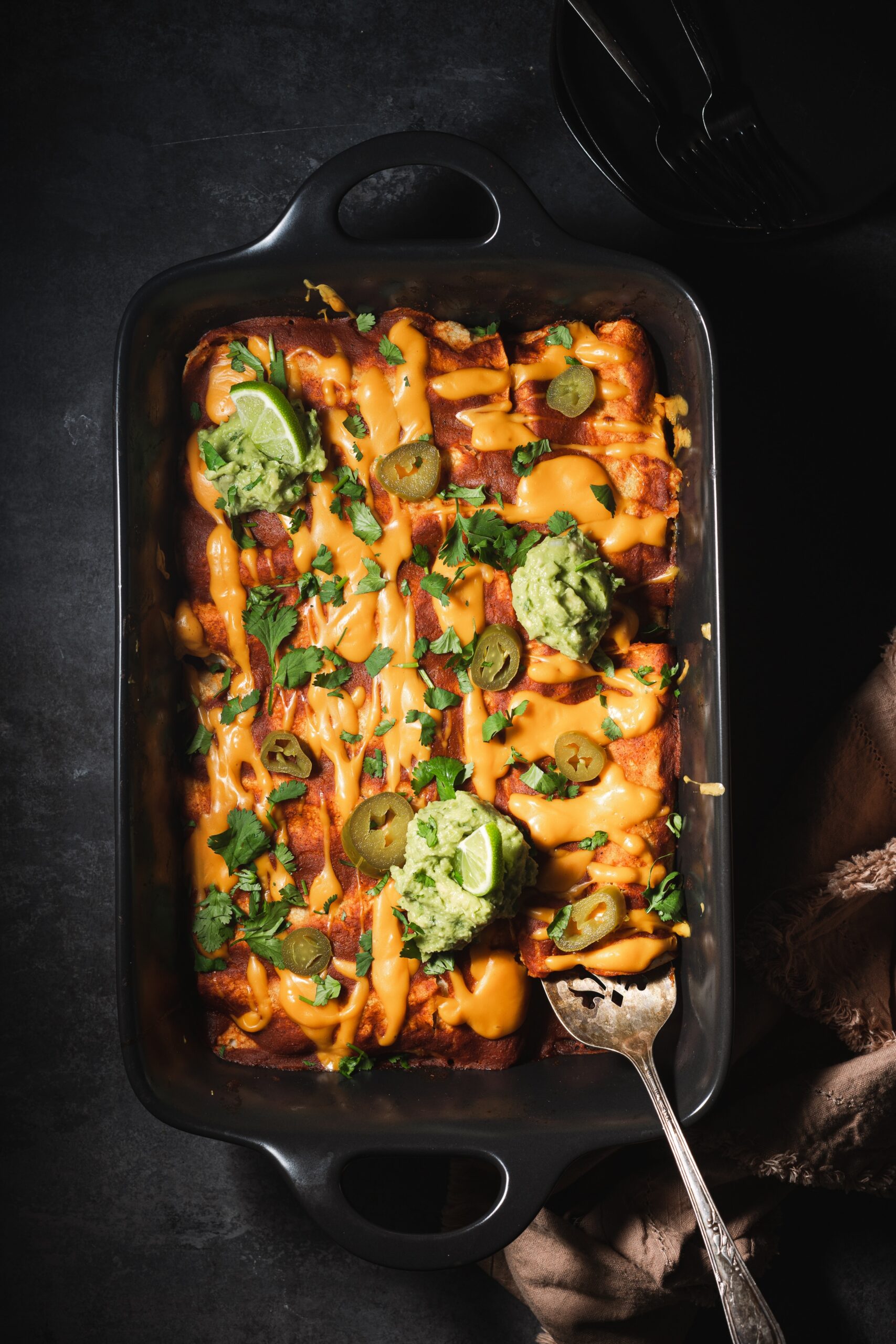 Tips & Tricks
My corn tortillas keep breaking! What can I do?
To prepare your corn tortillas for making enchiladas you'll want to make sure the tortillas are fresh and soft.
I recommend buying the corn tortillas fresh the day you plan to make this recipe. Old corn tortillas while perfect for tacos will become a bit stiff and crack when rolled for recipes like this one.
Make sure you're buying a quality brand of corn tortillas that are soft and flexible. Don't buy stiff corn tortillas. Even if the tortillas are fresh, microwave them for a few seconds before dipping them in enchilada sauce and rolling them. Basically, you want them to be as soft as possible but not soggy or stiff.
Frequently Asked Questions
Where can I find the enchilada sauce recipe?
You can find the enchilada sauce recipe on this blog post. I prefer a super saucy enchilada so I recommend increasing the written recipe by ½. Written recipe + ½. Instructions for enchilada sauce are written on step 3.
Can I use flour tortillas instead of corn tortillas?
Corn tortillas are more traditional and in my opinion, taste better but flour will work if preferred.
Are enchiladas fried or baked?
Enchiladas are coated in a chili-based sauce and then baked.
Which vegan cheese is the best for these enchiladas?
I used Violife Cheddar Cheese. Follow your Heart, Daiya, or any vegan-friendly cheddar cheese will work for this recipe. I find that some don't melt very well so I like to add it to a pan on medium heat and add a splash of plant milk and create a cheese sauce before adding it on top.
What else can I put in the filling of these enchiladas?
Anything you'd like!! You could do vegan beef crumbles, crumbled tofu, a mix of beans, more vegetables, jackfruit, etc. I could go on and on! Add anything you have on hand. The true necessities for this recipe are the corn tortillas and the enchilada sauce.
What should I put on top?
I went with guacamole, pickled jalapeños, cilantro and lime wedges but the options are endless. Sour cream, diced tomatoes and pickled red onion would also be delicious.
More Recipes You Might Like:
Recipe
Roasted Vegetable & Black Bean Enchiladas
These Vegan Roasted Vegetable & Black Bean Enchiladas are sure to impress the whole family! Roasted sweet potato, red bell peppers, and onion are seasoned to perfection and tossed with black beans to create a filling but healthy and flavorful dinner.
Print
Pin
Rate
Ingredients
Roasted Vegetables: 
2

cups

Diced Sweet Potatoes

1

cup

Diced Mixed Bell Peppers

1

cup

Diced Red Onion

1

tablespoon

Vegetable Oil

½

teaspoon

Salt

1

teaspoon

Chili Powder

½

teaspoon

Smoked Paprika

½

teaspoon

Onion Powder

½

teaspoon

Garlic Powder

¼

teaspoon

Cumin

¼

teaspoon

Coriander

Pinch

of Cayenne

Pinch

of Black Pepper
Black Bean Enchiladas:
Vegan Enchilada Sauce

Written recipe + ½.

1

cup

Canned Black Beans

12

Corn Tortillas

1

cup

Vegan Cheddar Cheese
Toppings:
Guacamole

Cilantro

Lime Wedges
Instructions
Preheat oven to 400F.

Dice the sweet potatoes, bell peppers, and red onion. Toss the vegetables in vegetable oil and all the spices and seasonings. 

Roast for 30-35 minutes or until the sweet potato is cooked through and starting to brown. 

Make the

enchilada sauce

and set aside. I recommend adjusting the recipe and making 1 + ½ batch for these to make them saucy and more delicious. See above for more information. 

Mix the black beans with the roasted sweet potato and vegetables. 

Microwave the corn tortillas for a few seconds to soften. This helps them from cracking. 

Reduce the oven temperature to 375F and add enchilada sauce to the bottom of a deep baking dish.

Coat both sides of the tortilla in enchilada sauce and add a little bit of the filling and roll. Place in a baking dish seam side down. Continue until you have used up all the filling. Should make around 12.

Top the enchiladas with the remaining sauce and shredded vegan cheddar cheese or alternatively you can melt the cheese on the stove top with 3-4 tablespoons of plant milk and then drizzle over the top. I recommend this if you want the cheese to appear completely melted. See above for more information. 

Bake for 20 minutes. 

Top with guacamole, cilantro, lime wedges and anything else you want. Enjoy!
Notes
I recommend wrapping leftover enchiladas in plastic wrap and then reheating in the oven or microwave as needed. 
Did you make this recipe?
Please leave a comment on the blog or share a photo on Instagram!