Ever wondered what chia seeds taste like? Here you will find a complete breakdown of the flavor, texture, health benefits, and how to incorporate them into your favorite foods.
Jump to:
Make chia pudding, add them to energy bites, or toss them on salads. The ways to incorporate these little seeds are endless!
They offer a variety of different benefits, unique texture, and mild flavor!
What are Chia Seeds?
Chia seeds are edible seeds that come from the desert plant Salvia hispanica. It is a member of the mint family that grows in southern Mexico.
Benefits
Chia seeds are known for being a good source of Omega-3 fatty acids. But they have many other benefits as well!
They are an excellent source of fiber, plant-based protein, calcium, antioxidants, iron, magnesium, and potassium.
Black vs White
There are two different kinds of chia seeds, black and white.
Black chia seeds are a lot more common than white chia seeds. You can even find them mixed together.
Black chia seeds have slightly more protein, whereas white chia seeds have slightly more Omega-3s but the difference is very minimal and shouldn't be a deciding factor.
Taste
The flavor of chia seeds is described as being very mild and slightly nutty.
But honestly, I would say that chia seeds taste like nothing. That isn't a bad thing though!
They have a ton of benefits and are a wonderful addition to your diet despite the mild flavor.
The biggest perk to chia seeds is that they expand when mixed with liquid- which means you get to add any flavor that you desire!
Because they have no district flavor, they can be added to various recipes including savory and sweet.
Texture
When they are combined with liquid they start to form a gel-like consistency but when raw, they have a crunchy texture like poppy seeds.
Where to Buy
Chia seeds can be bought at your local grocery store including Costco, Whole Foods, Trader Joe's, or most health food stores.
They are typically found in the aisle with nuts and seeds or can be purchased online.
My favorite brands are Nature's Intent and Bob's Red Mill.
You can buy them whole for recipes like chia pudding and ground chia seeds which are great as an egg substitute!
Storing
Chia seeds should be stored in an airtight container or tightly sealed jar away from moisture or heat.
Be sure to check the expiration date on the bag of your chia seeds but typically they have a long shelf life of about 2 years.
It can take a long time for chia seeds to go rancid but direct heat sources or moisture can cause them to go bad quickly. They need to be kept at a constant temperature to remain fresh.
I always store chia seeds in the fridge or freezer. This will help keep them fresh even longer!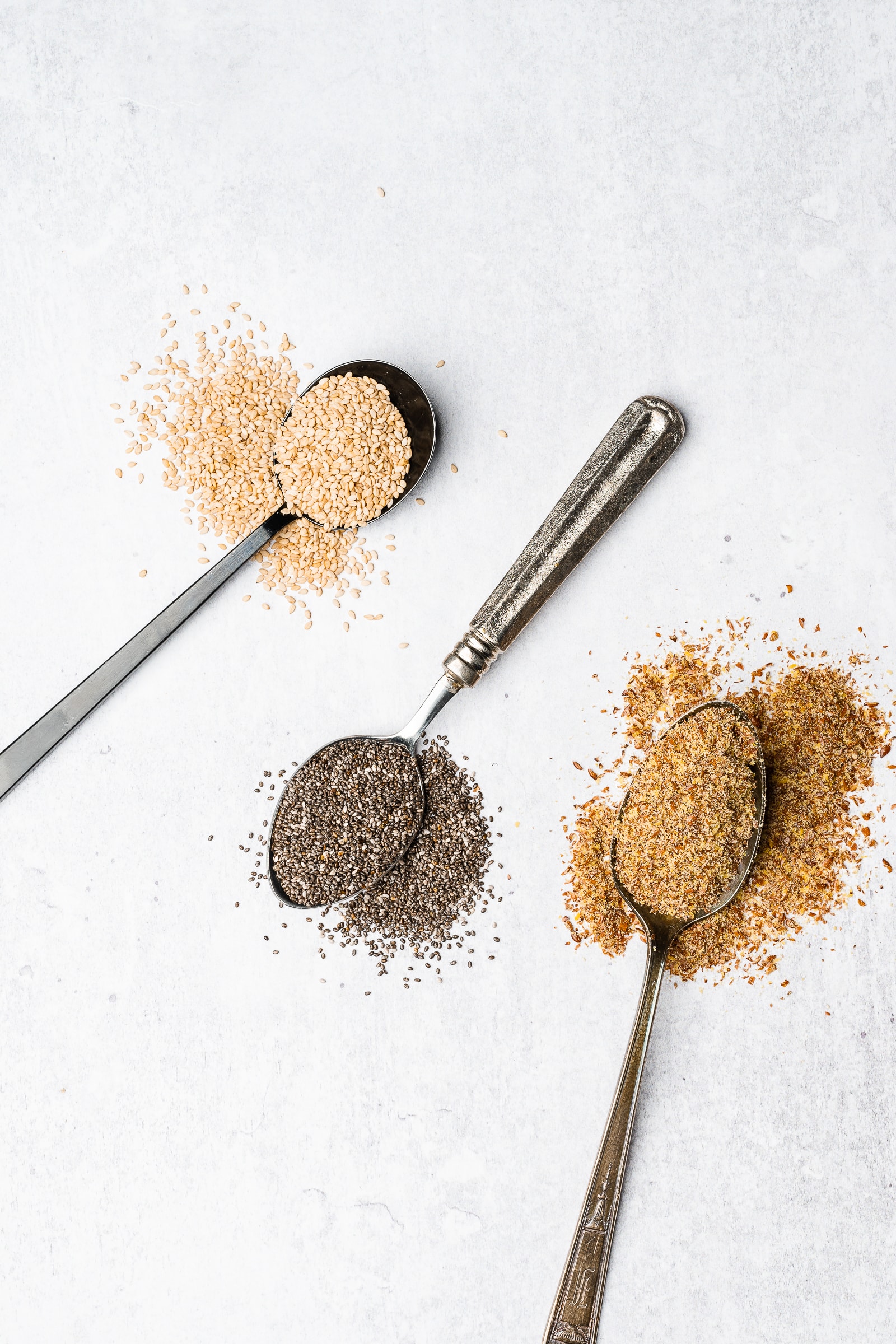 How to Use
The taste of chia seeds is often described as a mild nutty flavor but because of that mild taste- this makes them a great addition to a variety of different dishes and recipes!
As an egg replacer: Chia seeds are a great egg replacer in baking recipes. Make a chia egg by whisking together 1 tablespoon of chia seeds with 2 tablespoons of water and allowing it to sit for at least 10 minutes to soak up the liquid and become gel-like.
Breakfast: Chia seed pudding and overnight oats are the most popular ways to enjoy these tiny seeds because they soak up the flavor of the plant-based milk, sweetener, and flavor additions.
Baked goods & snacks: You can use them in recipes for granola, energy bites, protein bars, muffins, pancakes, and more!
Drinks: Chia seeds can be added to lemon water, kombucha, or tea.
As a topping: You can sprinkle them on top of salads, acai bowls, smoothie bowls, or oatmeal.
In jam: They are great addition to homemade jam to make it thicker and add a nice texture.
Smoothies: They can even be added to any smoothie for a boost of nutrients. Add them to this Oat Milk Smoothie with Banana and Peanut Butter.
Savory dishes: Use them in salad dressings, veggie burgers, bread recipes, and more.
Serving Size
The recommended serving of chia seeds is about two tablespoons. These tiny seeds are loaded with fiber and could possibly cause digestive issues when consumed in excess.
Chia Seed Recipes
Frequently Asked Questions
Can you eat raw chia seeds?
Chia seeds can be eaten raw but are easier on your digestive system when soaked.
What's a good substitute for chia seeds?
Chia seeds can be substituted with flaxseeds, hemp seeds, and even sesame seeds. Check out my Chia Seed Substitutes for 10+ alternatives.
Are chia seeds good for weight loss?
Chia seeds can aid in weight loss because they are a good source of fiber and protein which will keep you full longer.
What do chia seeds taste like in a smoothie?
Once blended, chia seeds go unnoticed in smoothies but will add a ton of health benefits!
How do you make chia seeds taste good?
Chia seeds will take on the flavor of what you add to them.
How long do chia seeds need to soak?
This answer will depend on what you are making. If you add them to water, soak them for at least 30 minutes. But if you are making overnight oats with chia seeds or chia pudding, soaking them overnight is best.
Are flaxseeds better than chia seeds?
They both offer a ton of health benefits and nutrients including omega-3s, protein, fiber, and more!
Conclusion
Chia seeds are a wonderful addition to a plant-based diet and offer a ton of amazing benefits. Even though they don't have a distinct flavor on their own, you can enjoy them in a variety of different ways by adding the flavors you enjoy most.
I hope this article was helpful to you and if you have any questions, leave them below!
Disclosure: This page contains some affiliate links. Please know that I may receive a percentage or commission from a link included on this page, at no extra cost to you. I will only ever recommend a product that I have used and believe has substantial value to my readers.