Layers of potatoes, caramelized onion, and creamy coconut milk and tofu sauce tucked away in a buttery, flaky crust- This Vegan Potato & Caramelized Onion Galette is absolute heaven! Surprisingly easy to make but a very impressive appetizer or main course to bring to a gathering.
What is a Galette?
A galette is a French pastry similar to a pie or a tart. It is essentially one sheet of pastry dough wrapped over a filling of choice. A lot of times they are sweet and filled with fruit and sometimes they are savory.
Galette dough requires butter so the switch to make this a vegan galette was quite simple. I recommend and used Earth Balance Vegan Butter.
Kitchen Essentials
This savory vegan galette is very simple to whip up but you need a few things to help you out-
A food processor or blender.
A large baking tray, I used a pizza pan
A sharp knife to cut the potatoes into rounds, no mandoline is needed
Main Ingredients
All Purpose Flour
Cold Vegan Butter
Potatoes
Canned Coconut Milk
Silken Tofu
Caramelized Onions
Substitutions
I don't recommend substituting anything in this vegan potato galette. I tested it multiple times and this yielded the best results. You can always add extra vegetables though. I think mushrooms would be a good addition.
Tips & Tricks
Be sure the vegan butter and the water for the galette dough are cold. We want this dough to be flaky and buttery and the cold butter and cold water will help with that.
Alternate between layers and use all the sauce! I recommend alternating the filling by starting and ending with the cream sauce.
Don't focus on making it look perfect because galettes are supposed to look homemade and rustic. That's what makes them beautiful!
Frequently Asked Questions
Is Galette Dough the same as Pie Crust dough?
Both doughs are very similar however I wouldn't suggest using store-bought dough for this recipe because homemade galette dough is so simple to throw together and tastes amazing.
Does all the sauce make this galette soggy?
Of course not! The sauce is thickened and coats the potatoes to create the most delicious buttery soft potatoes and is not a gooey mess at all! See photo for reference.
How do I fold a galette?
Simply pull the edges and fold them over the filling. The crust should overlap and not be perfect. Remember, the galette is supposed to look rustic and homemade.
Can I prepare the galette dough ahead of time?
Yes, simply wrap the dough in cling wrap and store in the fridge.
Can I make this vegan galette gluten-free?
I haven't personally tried it but I think it would work. I would recommend trying this with a gluten-free all-purpose flour but keep in mind that it'll probably require way less water and will be a little bit harder to fold. Give it a try and let me know how it goes!
More Recipes You Might Like:
Recipe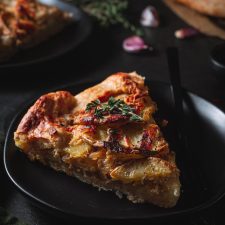 Vegan Potato & Caramelized Onion Galette
This Vegan Potato & Caramelized Onion Galette makes me so happy. The smell of this galette coming out of the oven is absolutely heavenly. This galette crust is the incredibly flaky and buttery then filled with layers of potatoes, caramelized onions, the creamiest coconut and tofu sauce and fresh thyme to finish it off. It's absolutely amazing and surprisingly easy to make. 
Print
Pin
Rate
Ingredients
Galette Dough:
1 ¾

cup

All Purpose Flour

1

tablespoon

Organic Sugar

½

teaspoon

Salt

½

cup

Cold Vegan Butter

I recommend Earth Balance

10-12

tablespoons

of Ice Cold Water

Plant Milk

for brushing on top

2

tablespoons

Fresh Thyme
Roasted Potatoes:
1.5

lbs

of Gold Potatoes

about 5-6

1

tablespoon

Olive Oil

½

teaspoon

Salt

½

teaspoon

Black Pepper
Caramelized Onions:
2

medium Yellow Onions

thinly sliced

1-2

tablespoons

Olive Oil

1 ½

teaspoon

Organic Cane Sugar or Agave

¾

teaspoon

Salt

3

Garlic Cloves
Coconut Tofu Cream Sauce:
Half a block of Silken or Soft Tofu

½

cup

Canned Coconut Milk

2

teaspoons

Miso Paste

2

teaspoons

Lemon Juice

½

teaspoon

Onion Powder

½

teaspoon

Salt

¼

teaspoon

Black Pepper

½

teaspoon

Red Pepper Flakes
Instructions
Preheat oven to 375F.

Potatoes: Slice the gold potatoes in rounds. No need to make them paper thin. Toss them in a large bowl with the olive oil. Sprinkle in the salt and pepper. Toss until coated evenly. Place the potato rounds on a parchment lined baking sheet being sure not to overlap them. Bake the potatoes until cooked through, about 30 minutes. Once done, set aside.

Pastry Dough: whisking together the all purpose flour, salt, and sugar. Add the vegan butter and cut it with 2 knives or a pastry cutter until crumbly. The butter pieces should be about pea-sized. Add the ice cold water little by little until the dough comes together. You may not need all 12 tablespoons. Once the dough comes together, wrap it in plastic wrap or a sheet of parchment and place in the fridge for 30 minutes.

Caramelized Onions: Start by thinly slicing the onions and mince the garlic. Heat a large pan on medium heat with the oil. Add the onions, salt, and sugar. Mix together. 

Let onions cook for 25-30 minutes or until golden in color and caramelized. Stir occasionally and add a few tablespoons of water if onions start to dry out. Lower heat if needed. Add the garlic and cook for another 2-3 minutes. Turn off heat and set aside. 

Coconut & Tofu Cream Sauce: combine all the ingredients in to a food processor or blender. Blend until smooth. Set aside. 

Lightly floured a piece of parchment paper. Roll out dough until it's about ¼in thick. It's not going to a perfect circle but that's okay because you want the edges to be rustic.

Once rolled out, start with a thin layer of sauce in the middle of the dough leaving roughly 2 inches clean around the edge. Alternate layers of roasted potatoes, caramelized onions, cream sauce, and fresh thyme until you run out of ingredients. Start with the sauce and end with the sauce, use all of it!

Fold the dough up and over the edge of the filling, overlapping the dough as you go around. Brush the rim with non-dairy milk and more fresh thyme. 

Bake for 45 minutes or until golden brown on top and bottom. I like to broil it for 4-5 minutes after the baking time to finish it off. Top with thyme and enjoy!
Notes
Reheat leftovers in the oven until warm.
Did you make this recipe?
Please leave a comment on the blog or share a photo on Instagram!