Tofu 101 is all you will need to read in order to master cooking tofu that is actually delicious!
Tofu can get a bad rap for having a bland taste and being boring but it is far from that! If you think this, odds are that you just don't know how to cook it correctly yet! This ultimate guide to cooking tofu is exactly what you need to expand your skills and learn everything about tofu.
Jump to:
The Guide to Cooking Tofu will touch on the most popular types of tofu and how to cook all of them! Learning how to cook tofu was a game changer for me and at the end of this blog post, I'll be linking over 10+ recipes that are fun yet easy to make, approachable, and delicious. Plus a bonus recipe for the crispest tofu ever!
Tofu is a great vegan protein source and an amazing part of a balanced diet! For best results, read through this article and then try out the crispest tofu ever down at the bottom of the post!
Origin of Tofu
Tofu originated in China and no one knows exactly who or how it was invented. There are a few different theories out there but whoever invented it, thank you! Making tofu is similar to making cheese so one theory is that someone discovered it while attempting to make cheese out of soy milk.
There is a misconception about tofu being a food that only vegans consume but this is very wrong. Tofu has been a staple in Asian cuisines for centuries!
What is Tofu?
Tofu is made by coagulating soy milk then the curds are pressed together to create that shape and textures that we are familiar with today.
The process of making tofu is actually quite interesting and is compared to making cheese. Tofu has definitely evolved over the centuries and what was once 1 type of tofu has now taken multiple different shapes. We'll touch on that next.
You can buy tofu in your local grocery store.
What Does Tofu Taste Like?
Plain tofu has no specific flavor and is honestly, quite bland. This might be why people tend to hate it but the fact that it's bland is exactly why we should LOVE it.
The texture of tofu is more important than the taste- all the different types of tofu have different textures. Be sure to read more about each of the variations of tofu so you pick the best option for the recipe that you are making.
So, why are we glad tofu tastes like nothing? Because you can create whatever you want out of it!
The flavor of tofu won't matter because whatever marinade you add, it soaks it up! It takes on the flavor of whatever your heart desires. Once you nail the texture, you're going to have so much fun creating new and fun dishes that make tofu taste good.
What are the different types of tofu and how do I prepare them?
There are many many different kinds of tofu but we're going to cover the most popular silken tofu, soft tofu, medium firm/ firm tofu, extra-firm tofu, and super firm tofu.
Silken Tofu
Silken tofu has an incredibly silky creamy texture and will fall apart when handled. It has the highest water content of all the different varieties of tofu and the lowest protein content. It is recommended not to press this variety of tofu.
There are different types of silken tofu but most grocery stores only carry one. They can be interchangeable and it doesn't really matter which variety of silken tofu you find.
Soft Tofu
Soft tofu is similar to silken tofu but they are not the same! The mouth-feel is definitely different. Soft tofu is a bit more coarse in texture whereas silken tofu is silky smooth and creamy.
How do I use silken and soft tofu?
While soft tofu and silken tofu are not the same, they are usually interchangeable. This variety of tofu is best to blend into sauces or desserts or consumed as it comes and is not recommended to bake or fry as it will just fall apart.
Silken and Soft Tofu Recipes:
Cubed small and served in Miso Soup
Blended into sauces and salad dressings
Blended into decadent dessert recipes like mousse, puddings, tarts, and dairy-free cheesecakes
Blending into smoothies for higher protein
Served raw with soy sauce, scallions, and chili sauce poured over the top
Medium Firm & Firm Tofu
Medium Firm and Firm Tofu are different but very similar. They both have a high water content but much less than silken or soft but aren't as firm as extra-firm or super firm.
The texture is firm yet smooth and they are both interchangeable so I'm grouping them together. It's more delicate than extra-firm or super firm but will hold together and can be pressed. Medium block tofu is the one to use when you want a crisp outside while keeping the inside soft.
Medium Firm Tofu Recipes:
Vegan Egg Salad
Tofu Scrambles
Crumbled in Vegetable Fried Rice
Can be baked, pan-fried, or crumbled where a crispy outside and softer inside is desired
Pulsed into tofu ricotta.
How to Make Sweet Chili Tofu:
Extra Firm Tofu
Extra Firm Tofu is the most popular variety of tofu. Extra-firm tofu is higher in protein and denser and has a more chewy texture than firm tofu. It holds together well and is perfect for marinating, pan-frying, and baking. This is definitely the variety that most recipes call for and is a staple in plant-based cooking.
Super Firm Tofu
Super Firm has the lowest water content and doesn't need to be pressed. You can use super firm in replace of extra firm in just about every recipe if a super dense hearty texture is desired.
This tofu comes wrapped in plastic instead of the usual plastic container that we typically see tofu in. It is usually more expensive so I don't typically buy this variety but it is great if you are short on time and want to skip the pressing stage and have a crispy end result.
Extra Firm & Super Firm Tofu Recipes:
Tossed in cornstarch and seasonings and pan-fry, fry, bake, or air-fry in a bit of oil. Then, tossed in a sauce of choice. Recipe down below for how to make the crispest tofu ever!
Marinate the tofu in whatever flavoring is desired and then crumble, bake, fry, or pan-fry.
Use in stir fry, pastas, savory dishes- this type of tofu is great for substituting the protein in your favorite dishes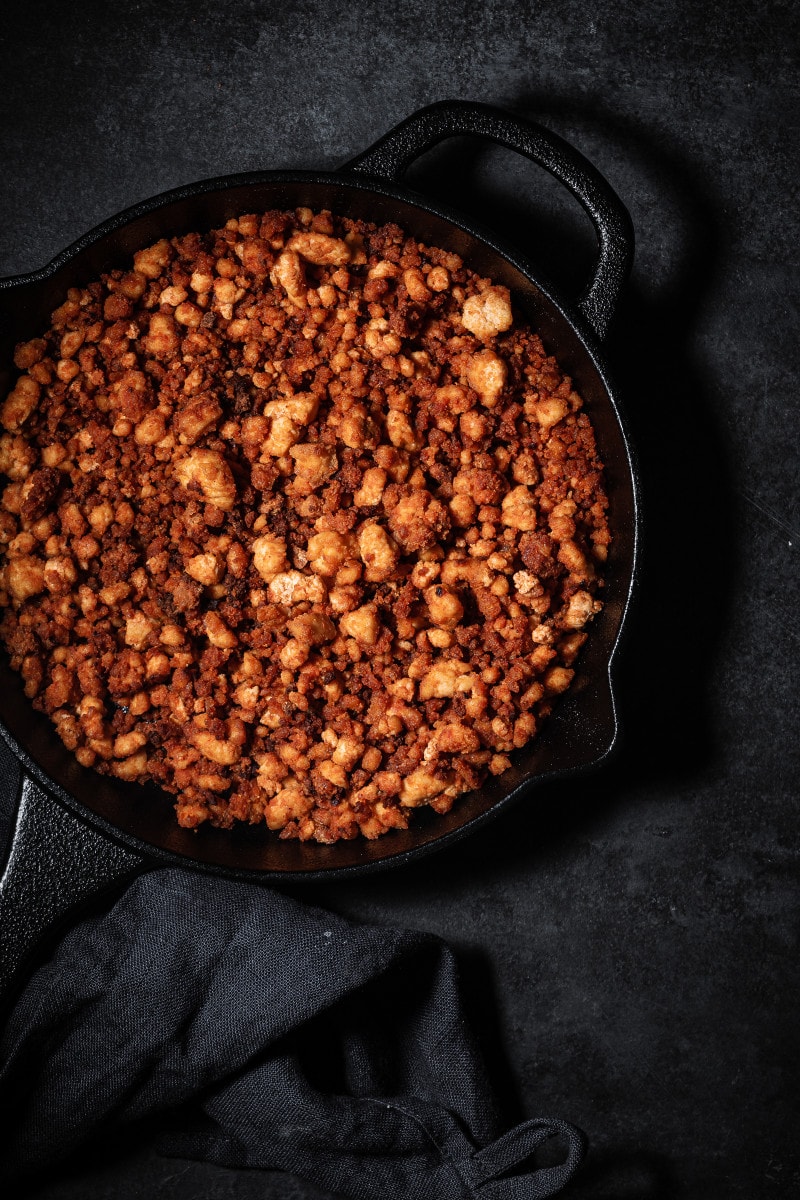 How to Press Tofu
Investing in a tofu press changed my tofu game! You can buy an inexpensive tofu press or create your own DIY tofu press by wrapping it in paper towels or clean dishcloths and placing it in a shallow bowl. Then, stack heavy items on top to drain the excess water. It doesn't take much time- you can press for as little as 15 minutes or up to 2 hours.
I always recommend pressing the tofu when you desire crispy tofu because it removes excess moisture which will not only improve the texture but will also help the tofu get crispy.
Removing the excess water is also important when you plan to marinate tofu because removing the water will help the tofu absorb all that flavor.
But pressing tofu isn't always necessary. For example, you wouldn't press silken tofu or soft tofu when making sauces or using the tofu in baking. You also wouldn't press super firm tofu as it has very little water content already. It truly depends on what variety you use and what you are making.
How to Bake Crispy Tofu
Press a block of extra firm tofu for 20-30 minutes then cube and toss with a splash of low-sodium soy sauce. Then, toss with 1-2 tablespoons of cornstarch, a pinch of salt, black pepper, and any other desired seasonings then bake @ 425F for 20-25 minutes or until crispy and golden.
Marinate a block of tofu whole and bake @ 375F for 60 minutes or until the edges are nicely brown. This Brown Sugar Balsamic Glazed Tofu follows this method and it's incredibly delicious.
How to Pan-Fry Tofu:
Press a block of extra firm tofu for 20-30 minutes then cube and toss with a splash of low-sodium soy sauce. Then, toss with 1-2 tablespoons of cornstarch, a pinch of salt, black pepper, and any other desired seasonings then fill the base of a medium pan with neutral oil and pan-fry until crispy and golden brown on each side.
Top tips for pan-frying tofu:
Remove excess water by pressing the tofu. This will help the tofu become extra crispy.
Don't overcrowd the pan or the tofu will steam.
Drain on a wire rack to prevent the tofu from getting soggy.
Give the tofu time to crisp up. I find that tofu gets stuck to the pan and then once it's crisp enough it will be easy to flip. So, give the tofu piece a little tug and flip if it's ready and leave it alone for a few more minutes if it's not.
How to Braise Tofu:
Press a block of extra firm tofu for 20-30 minutes then slice and toss with a splash of low-sodium soy sauce. Then, coat in cornstarch, a pinch of salt, black pepper and any other desired seasonings then add a touch of oil to a medium pan pan-fry until crispy and golden brown on each side. Add in the sauce of choice and cook on both sides for about 7 minutes or until the sauce has been absorbed into the tofu.
My recipe for Spicy Gochujang Braised Tofu follows this method and it's incredibly delicious!
How to Season Tofu:
The wonderful thing about tofu is that is a blank canvas. Tofu truly takes on the flavor of whatever seasonings you put on it or whatever you marinate it in.
My go-to everyday tofu seasonings are garlic powder, onion powder, salt, freshly cracked black pepper, and smoked paprika.
But if I'm making a tofu scramble then my go-to seasonings would be all of that plus some turmeric and nutritional yeast.
Or if I'm making tofu tacos then I might add cayenne pepper and ground chili powder.
Or some Italian seasonings if I'm crumbling to add to pasta. Since tofu is very plain and boring without seasonings, you can't go wrong here! Any and all seasonings will work when it comes to tofu.
Frequently Asked Questions
What does tofu taste like?
Tofu is very bland in flavor but that makes it a great blank canvas for whatever you're cooking! It takes on whatever flavor you add to it.
Can I eat raw tofu?
Tofu is technically already cooked. But silken and soft are most often eaten this way. Drain and rinse the tofu and be sure that the tofu has been properly stored before enjoying it straight out of the package.
What is the easiest way to cook tofu?
Crumble tofu and cook in a pan for a few minutes to create a super fast and easy tofu scramble. Add vegetables of choice and vegan cheese if desired then serve with toast for a delicious and easy breakfast.
Is it better to pan fry or bake tofu?
Both are delicious! Baking tofu gives the tofu a chewier texture and pan-frying the tofu will crisp up the exterior while leaving the inside nice and soft. It depends on what you're looking for and what you're cooking.
Do I have to marinate tofu?
Nope! It adds flavor but tossing tofu in cornstarch and lots of seasonings is just as delicious.
What seasoning is good on tofu?
Anything and everything! My go-to tofu seasonings are nutritional yeast, salt, black pepper, garlic powder, onion powder, and smoked paprika.
Should I only buy organic tofu?
Soy is a highly sprayed crop so I do recommend buying organic tofu. I have found that the most readily available brands are already organic.
Is tofu healthy?
Tofu is high in protein (with even higher protein in the extra-firm variety) but also provides you with healthy fats, carbs, and important vitamins and minerals. There are some common myths that circulate about the beloved tofu but those are myths and have been debunked.
Easy Tofu Recipes for Beginners:
Now that you know all about tofu and how to cook it- let's put the knowledge into practice. Below are my favorite tofu recipes that are perfect for beginners or tofu lovers that are approachable and always delicious!
Keep checking back on this post as this list of recipes will grow over time and this article will be updated with even more information and helpful tips.
Recipe
How to Make Crispy Tofu
This Ultimate Guide to Cooking Tofu is the only guide you'll need to read in order to master cooking tofu that is actually delicious. As promised, here is the recipe for how to make crispy tofu! This recipe can be used for many of the recipes linked above or can be sauced up and served however you'd like.
Print
Pin
Rate
Ingredients
1

Block Extra Firm Tofu

1

tablespoon

Low Sodium Soy Sauce

1-2

tablespoons

Cornstarch

Seasonings of Choice

see notes

Vegetable Oil

for pan-frying
Instructions
Press a block of Extra Firm Tofu for at least 20-30 minutes. See above to learn more about pressing tofu.

Cube the tofu and place in a large bowl.

Gently coat the tofu with the low sodium soy sauce then toss in cornstarch and any seasonings of your choice.

Heat a large pan on medium high heat and coat the base of the pan in a neutral oil.

In batches, fry each side of the tofu until crispy and golden brown. About 3-5 minutes each side. Drain the tofu off on a wire rack and finish frying the remaining tofu. Serve however you'd like and enjoy!
Notes
My favorite seasonings to add are garlic powder, onion powder, salt, pepper and smoked paprika. Season however you'd like! 
Did you make this recipe?
Please leave a comment on the blog or share a photo on Instagram!
Disclosure: This page contains some affiliate links. Please know that I may receive a percentage or commission from a link included on this page, at no extra cost to you. I will only ever recommend a product that I have used and believe has substantial value to my readers.