Looking for substitutes for chia seeds? Maybe you don't have any on hand and need a quick replacement? No matter the circumstances, here are some quick and easy swaps you can make!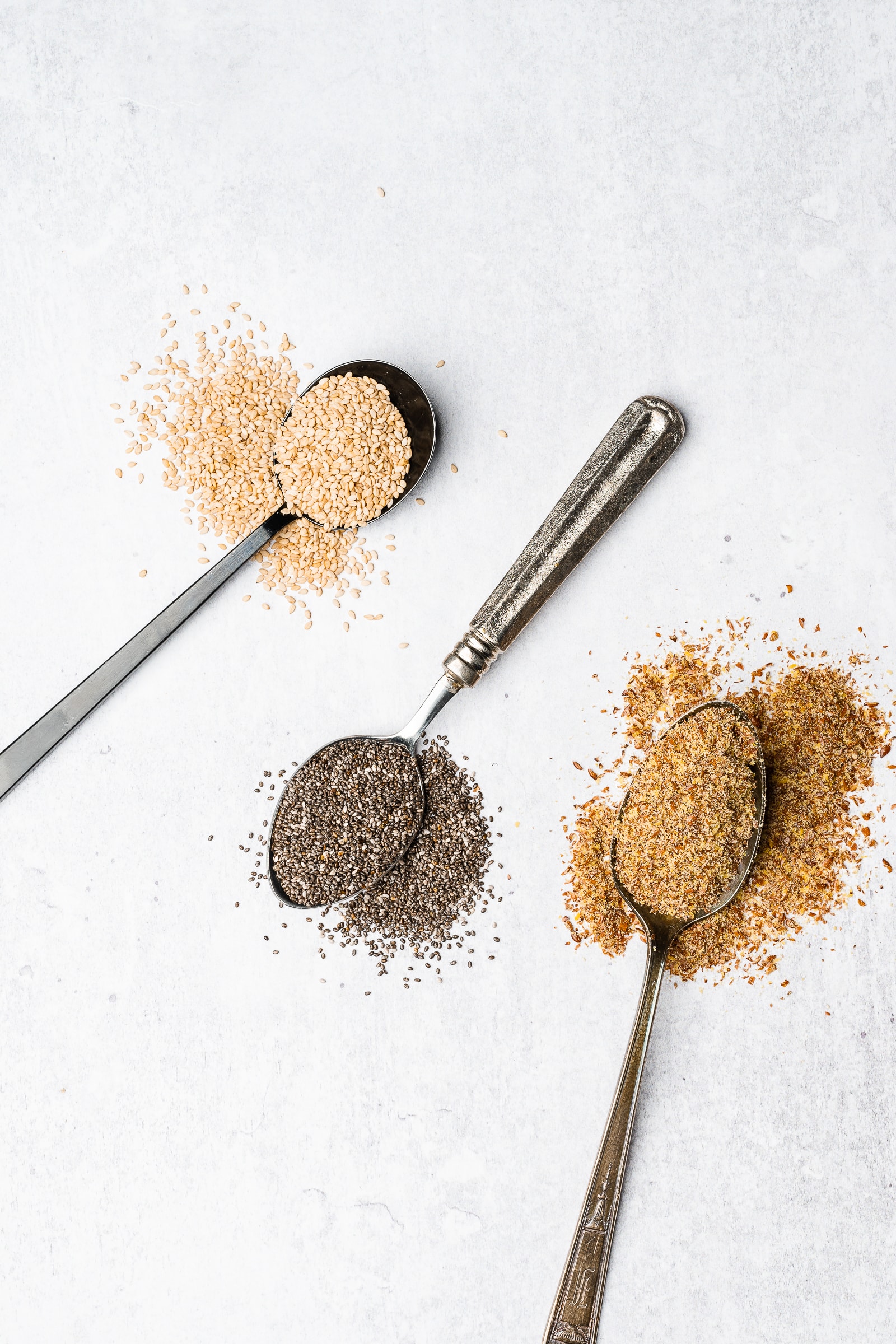 Jump to:
Chia seeds are sometimes mixed with water to create a gel-like consistency and used in baking recipes to replace eggs!
A chia egg is made by mixing 1 tablespoon of chia seeds with 2 ½ tablespoons of water. The chia seeds will soak up the water and is perfect to replace real eggs in all your favorite baking recipes.
Other times, it's used to add omega-3s, fiber, and protein. Recipes like overnight oats, oatmeal, and smoothies often include chia seeds.
Maybe you just ran out or maybe you don't enjoy the texture.. whatever the circumstance may be, I have you covered with over 10 alternatives to chia seeds!
What are Chia Seeds?
Chia seeds are edible seeds that come from the desert plant Salvia hispanica. It is a member of the mint family that grows in southern Mexico.
Chia seeds are a rich source of Omega-3 fatty acids as well as a great source of fiber, plant-based protein, antioxidants, magnesium and potassium.
Types of Chia Seeds
There are two different kinds of chia seeds, black and white.
Black chia seeds are a lot more common than white chia seeds but there aren't that many differences. Black chia seeds have slightly more protein content, whereas white chia seeds have slightly more Omega-3s. I say slightly because the difference is very minimal.
What do chia seeds taste like?
The flavor of chia seeds is described as being very mild and slightly nutty. I personally would describe chia seeds as having no flavor at all.
When they are combined with liquid they start to form a gel-like consistency but when raw, the texture is crunchy like a poppy seed.
Common Uses
Egg Replacement: Chia seeds are a very common egg replacer in the vegan community. 1 tablespoon of chia seeds mixed with 2 ½ tablespoons of water equals one egg. This egg replacer is great for baking.
Chia Pudding: One of the most popular ways to use chia seeds is in chia pudding. Chia seeds are mixed with plant-based milk to create a creamy texture. The chia seed pudding will be soaked for a few hours so they no longer have a crunchy texture.
Oatmeal and Overnight Oats: Adding a spoonful of chia seeds to overnight oats or oatmeal ups the nutritional value and helps keep you full even longer. They also will thicken them up.
Granola and Energy Bars: Adding chia seeds to granola or protein bars will improve texture and add a boost of nutrients.
Drinks: You can add chia seeds to smoothies to thicken them and add a boost of omega-3s. It's also popular to add chia seeds to lemon water to aid in digestion and keep you full longer.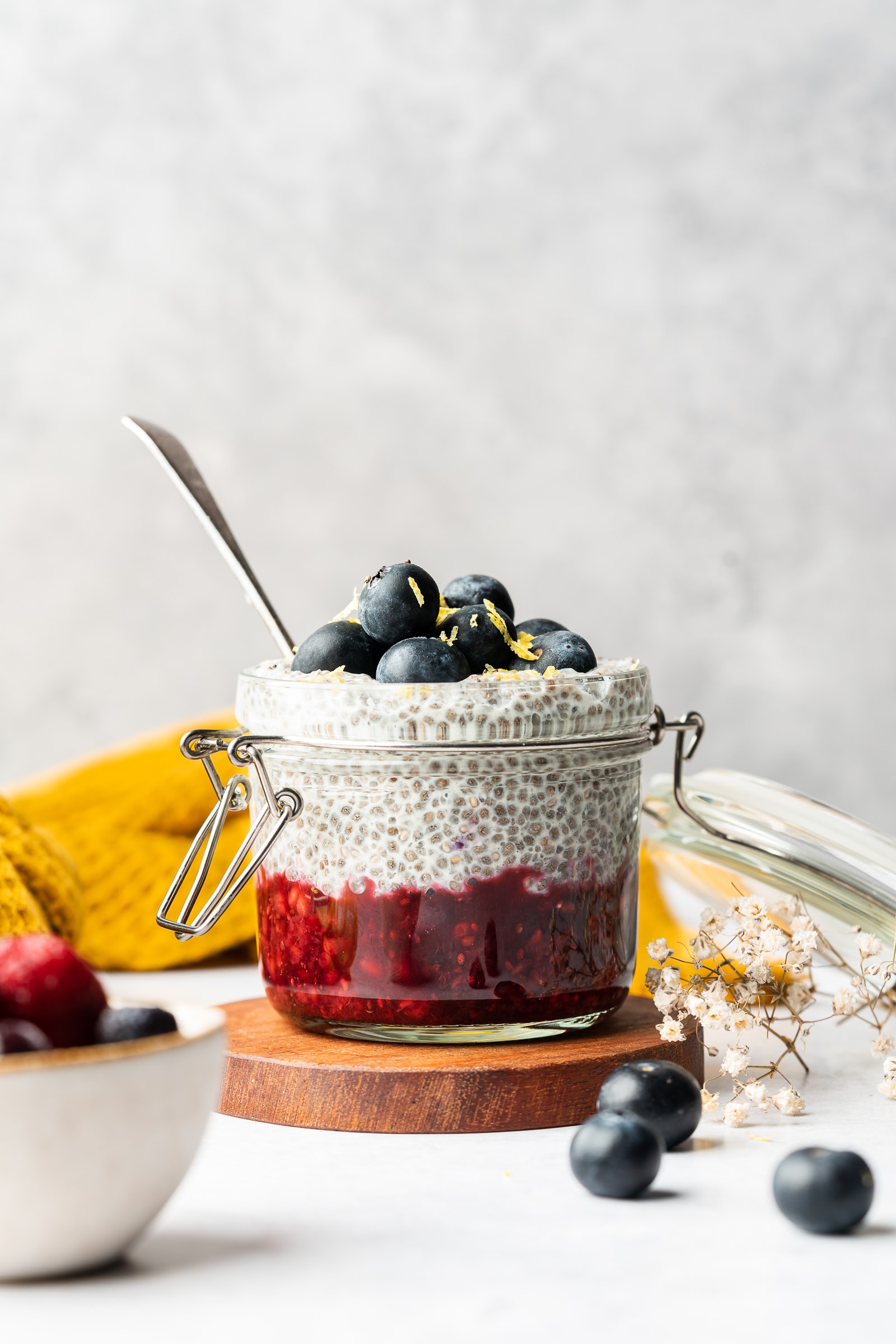 Choosing an Alternative
When it comes to choosing a chia seed alternative, you need to realize what purpose they are serving in the recipe or dish.
If you're using them for an egg replacer, you can't just leave them out without risking the final product. You'll need to find an alternative that can do the same job- like ground flaxseed.
If you're looking for an added nutrient boost but don't have chia seeds around, you have a few more options to choose from. You can add puréed fruit, nut butter, or even wheat germ.
Here are my favorite ways to replace chia seeds on every occasion. Doesn't matter whether you don't like them, don't have access to them, or are allergic to them- there is an alternative that is perfect for you!
Ground Flaxseed
Flaxseeds are the best substitute for chia seeds in my opinion despite having a slightly stronger taste. Ground flax works well as an egg replacer in baked goods but is a wonderful addition to smoothies, oatmeal, overnight oats, and more to add a boost of nutrients and aid in thickening.
Make a flax egg: Mix 1 tablespoon of ground flaxseed with 2 tablespoons of water. Allow to soak for a few minutes- it will create a thick gel-like consistency. Note that whole flax seeds will not work.
You can buy ground flaxseed or flax seeds in whole form. Keep in mind, you will want the flax to be ground but if you purchase them in whole form- you can grind them using a spice or coffee grinder.
My favorite brand of ground flaxseed is Bob's Red Mill.
Sesame Seeds
Sesame seeds are a good substitute for chia seeds but they do have a more prominent flavor. Unlike chia seeds, sesame seeds can be eaten raw and add a nice texture to sweet and savory foods. They can even be ground to create tahini.
Sesame seeds come in white or black.
Poppy seeds
You may not want to add poppy seeds to your oatmeal but they sure do make an excellent alternative to chia seeds when it comes to savory foods like salad dressings, salad toppings, bagels, and more!
They can also be great to substitute chia seeds in baked goods like muffins or cookies. Lemon poppyseed bread? Yes, please.
You can find poppy seeds in the seasoning and spice aisle at the grocery store or online. I use McCormick.
Hemp Seeds
Hemp seeds have a mild, nutty flavor and are often referred to as hemp hearts. They can be used to add a nutrition boost to overnight oats, oatmeal, yogurt, granola, and more!
They contain a higher amount of protein and healthy fat than chia seeds which makes them a fantastic substitute.
My favorite brand of hemp hearts is Bob's Red Mill.
Sunflower Seeds and Pumpkin Seeds
Sunflower seeds and pumpkin seeds won't necessarily work as an egg replacement but both of these seeds can be a great addition to salads, on top of oats, or in yogurt bowls.
They can even be ground into a powder or seed butter and added to thicken or flavor baked goods, smoothies, or oatmeal.
Nuts and Nut Butter
Adding nuts to your favorite foods can add a boost of nutrients and help keep you full longer since they contain healthy fats and protein.
They can be chopped whole or used in the form of nut butter in place of chia seeds to add flavor to oats, smoothies, baked goods, and more!
My favorite nuts are almonds, cashews, and walnuts.
Oats and Oat Bran
Old-fashioned oats are the main ingredient in oatmeal and overnight oats. Often chia seeds are added to these popular breakfast items to boost nutrition and keep you full longer but chia seeds are not a mandatory ingredient in those recipes.
So if you're making oatmeal and looking for a substitute for chia seeds, you can leave the chia seeds and replace them with flaxseed, nuts, or nothing!
If you're looking to replace chia seeds in smoothies or in baked goods, oats are an excellent choice.
But if you're looking for something high in nutrients but don't enjoy chia pudding, try oat bran. Oat bran is the outer husk of oat grains that has a lot of nutrients. It can eat as a hot cereal or used in muffins or even pancakes!
Bob's Red Mill is my go-to brand for Old-Fashioned Oats and Oat Bran.
Wheat Germ
Wheat germ is another good alternative to chia seeds!
It can be used in muffins, pancakes, or even as an addition to oatmeal or overnight oats for additional fiber. I've also added it to granola and protein bars and had wonderful results.
My favorite brand of wheat germ is Kretschmer.
Puréed Fruit
Puréed fruit like banana, applesauce, or pumpkin purée could be added to oatmeal or overnight oats for added nutrients and flavor but can also be a great substitute for eggs in baked goods.
Mashed banana will add a natural sweetness so be sure to add less sugar to your oats or yogurt bowls.
Plant-Based Yogurt
Just like puréed fruit, yogurt can be used as an egg replacer in baked goods like muffins or cakes instead of a chia seed "egg".
Chia seeds are often added to overnight oat recipes to add nutrients and a creamy texture. But yogurt can be added instead to create a creamy texture.
Often times plant-based yogurt contains added flavors and sugar so depending on the recipe, make sure to grab some unsweetened yogurt.
My favorite brand is Kite Hill.
Quinoa
Quinoa might not seem like it could be a great chia seed substitute but it works in certain recipes. Let me explain. Chia seed "egg" might be used to bind a veggie burger but if you don't want to use chia seeds, you can use cooked quinoa!
It's a great source of protein to add to salads as well. You can even make a quinoa porridge to replace chia seed pudding or oatmeal in the morning.
Frequently Asked Questions
What can I use instead of chia seeds in overnight oats?
Replace the chia seeds in overnight oats with ground flaxseeds to help thicken them and add a boost of nutrients. Note that whole flaxseeds will not work.
Can you substitute chia seeds for flaxseed?
Yes! Flaxseed is the most common substitute for chia seeds in oatmeal, overnight oats, and baking. Flax seed is a wonderful plant-based egg substitute.
What are the nutritional benefits of chia seeds?
Chia seeds contain fiber, protein, healthy fats, calcium, and antioxidants. They are most known for being loaded with Omega-3s. 
Can you eat chia seeds unsoaked?
Yes, but eating them soaked can be easier to digest.
Can I leave chia seeds out of a recipe?
In some cases, yes. For overnight oats or granola, they can be left out. But if you're using chia seeds as an egg replacer, you'll need to use a different egg replacer such as puréed banana or flaxseed.
Can I substitute chia seeds with oats?
Overnight oats are a great alternative to chia seed pudding!
Recipes to Try
Conclusion
Choose a substitute that best fits your needs!
If you are trying to add a boost of nutrients, go for hemp seeds or mixed nuts. Or try out wheat germ or oat bran.
If you are trying to replace eggs, go for ground flaxseed or puréed fruit. You could even opt for a store-bought egg replacer instead.
If you are trying to add flavor, go for plant-based yogurt or nut butter.
Hope you found this article helpful!
Disclosure: This page contains some affiliate links. Please know that I may receive a percentage or commission from a link included on this page, at no extra cost to you. I will only ever recommend a product that I have used and believe has substantial value to my readers.