Looking for substitutes for yogurt in smoothies? Maybe you're dairy-free or you simply ran out and need a quick replacement. No matter the circumstances, here are some simple swaps you can make!
Jump to:
Yogurt is made by combining milk with bacteria and letting it culture.
People tend to add yogurt to smoothies for various reasons but one is that it makes smoothies thick and creamy!
If you're lactose intolerant or newly vegan, maybe you're wondering what you can add in replace of yogurt in your smoothies?
Making smoothies without yogurt is super easy and they will be even more delicious and just as creamy!
Whether you're making a banana smoothie, a berry smoothie, or a green smoothie- there is an alternative for you!
Yogurt Alternatives
Here are my top ways to replace yogurt in smoothies that are easy, healthy, and just as creamy!
Maybe you're avoiding dairy or simply ran out of yogurt- there is an alternative that is perfect for you down below!
And you probably already have it in your pantry or freezer!
Some of the vegan substitutes listed below add creaminess, flavor, nutrients, or aid in thickness. Some even add all four!
Frozen Banana
Frozen banana is one of the best substitutes to add thickness and creaminess to a smoothie without having to add yogurt.
Simply, wait until the bananas are ripe. They should be yellow with brown spots. Peel the banana, cut it into chunks, and freeze.
If you're not a fan of banana smoothies, don't worry! Banana does add flavor but they can easily be overpowered by other flavors such as a different variety of fruit or nut butter.
Frozen Fruit
Smoothies made with frozen fruit will be thicker and creamier in texture than smoothies made with fresh fruit.
Adding ice cubes can sometimes make the smoothie taste watery and icy whereas frozen fruit blends perfectly smooth and creates a wonderful fluffy, creamy texture.
Frozen berries and frozen mango are my favorites!
Coconut Milk Ice Cubes
Canned coconut milk or coconut cream is especially thick and creamy which makes it a wonderful addition to smoothies and a great yogurt replacement.
My favorite way to add coconut milk to smoothies is to portion it out into a silicon ice cube tray and freeze it.
That way you can have coconut milk ice cubes to throw into a blender whenever you need a creamy smoothie.
Cauliflower
Cauliflower is an interesting alternative to yogurt but if you're looking to add a serving of vegetables then this is a great option!
It is neutral in flavor so this is a great kid-friendly option to boost the nutritional value of the smoothie.
Frozen or steamed and cooled is best.
When blended, cauliflower incorporates well and adds a creamy texture, and makes for beautifully thick smoothies!
Silken Tofu
Silken tofu may seem like a unique choice but it's a great choice to add creaminess to smoothies!
Silken tofu is neutral in flavor and will add a thick and creamy texture without altering the flavor.
It also has a good amount of protein and will keep you full longer.
Dairy-Free Yogurt
This is probably the most obvious substitute but regular yogurt in smoothies can easily be replaced with non-dairy yogurt.
You can find vegan yogurt made from cashew milk, soy milk, oat milk, almond milk, and even coconut milk.
My favorite brands are Kite Hill and Silk. It can come unsweetened and plain or with added flavor or added sugar.
Kite Hill has a vegan greek yogurt that is delicious in smoothies and adds a tangy flavor!
Avocado
Avocado is a wonderful way to add creaminess and a boost of healthy fat to smoothies.
This is a particularly great ingredient to add to green smoothies but is neutral enough to be added to a variety of different smoothies including chocolate.
If you have avocados that are about to go off, I recommend adding them to a freezer-safe container to have them on hand for smoothies!
Nut or Seed Butter
Nut butter and seed butter are both great alternatives to yogurt in smoothies to add volume, protein, and healthy fats.
Keep in mind that nut butter will add flavor and isn't as neutral as yogurt but it is delicious when paired with the right ingredients.
My personal favorite is peanut butter and almond butter.
But if you're nut-free or peanut-free- check out my almond butter substitutes to pick from a list of alternatives that will work best for you.
Chia Seeds
When chia seeds are added to smoothies they soak up the liquid and become gel-like in consistency. They add thickness but also a boost of nutrients!
Chia seeds are full of omega-3s, protein, and fiber, and are even high in antioxidants. You won't need much- 1 tablespoon of chia seeds per smoothie.
They are neutral in flavor so they won't change the flavor of the smoothie.
You can find chia seeds in most grocery stores or online.
Flaxseeds
Similar to chia seeds, flaxseeds soak up liquid when added to smoothies and help create a thicker texture.
They are neutral in flavor but high in nutrients and a healthy choice to substitute yogurt.
You can find flaxseeds in most grocery stores or online.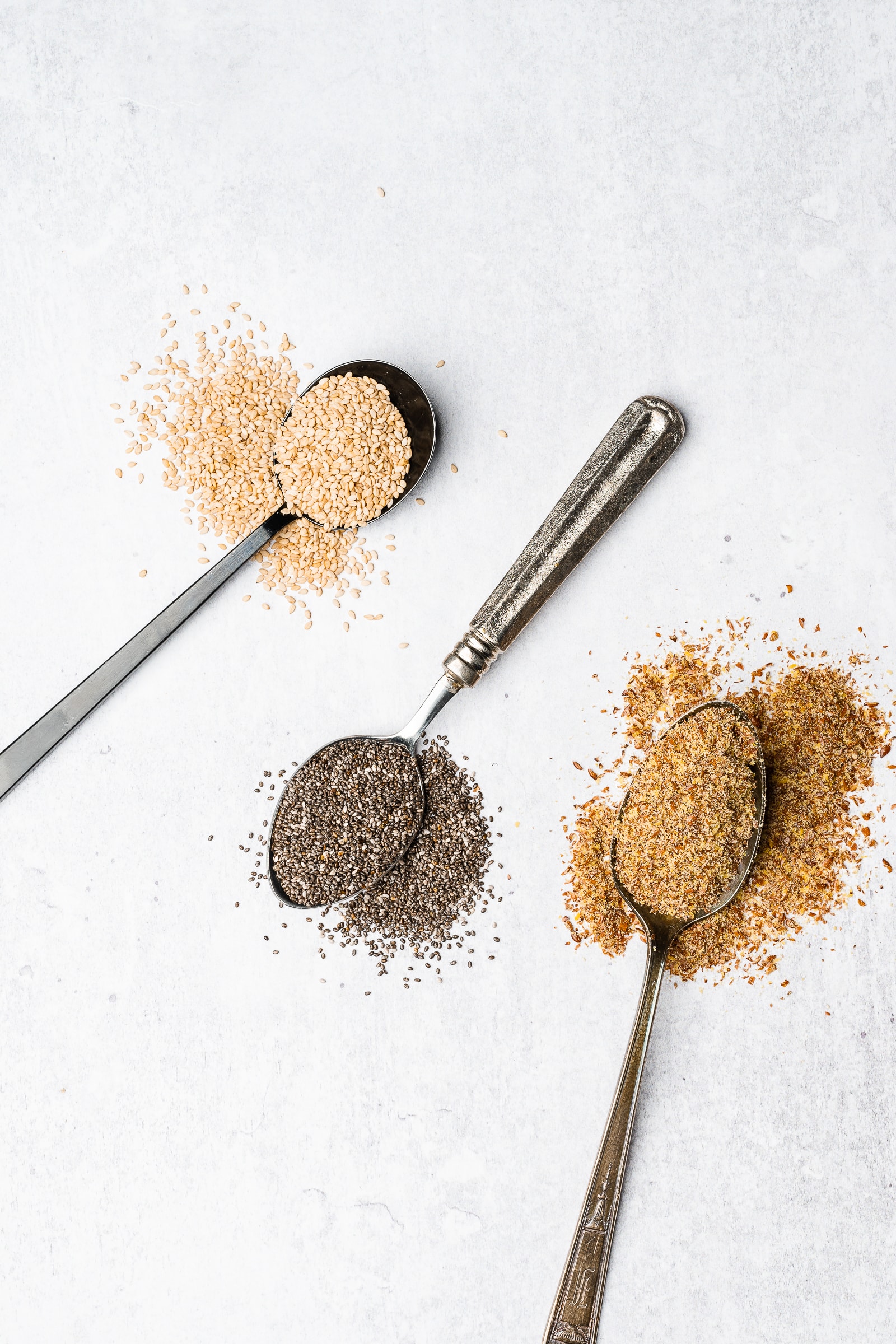 Hemp Seeds
Similar to flaxseeds and chia seeds, hemp seeds are a great substitute for yogurt. They have a nutty flavor and add a creamy texture when blended.
You can find hemp seeds in most grocery stores or online.
Rolled Oats
Raw oats are an easy and affordable alternative to yogurt when it comes to adding them to smoothies. They add thickness and creaminess and will keep you full a lot longer!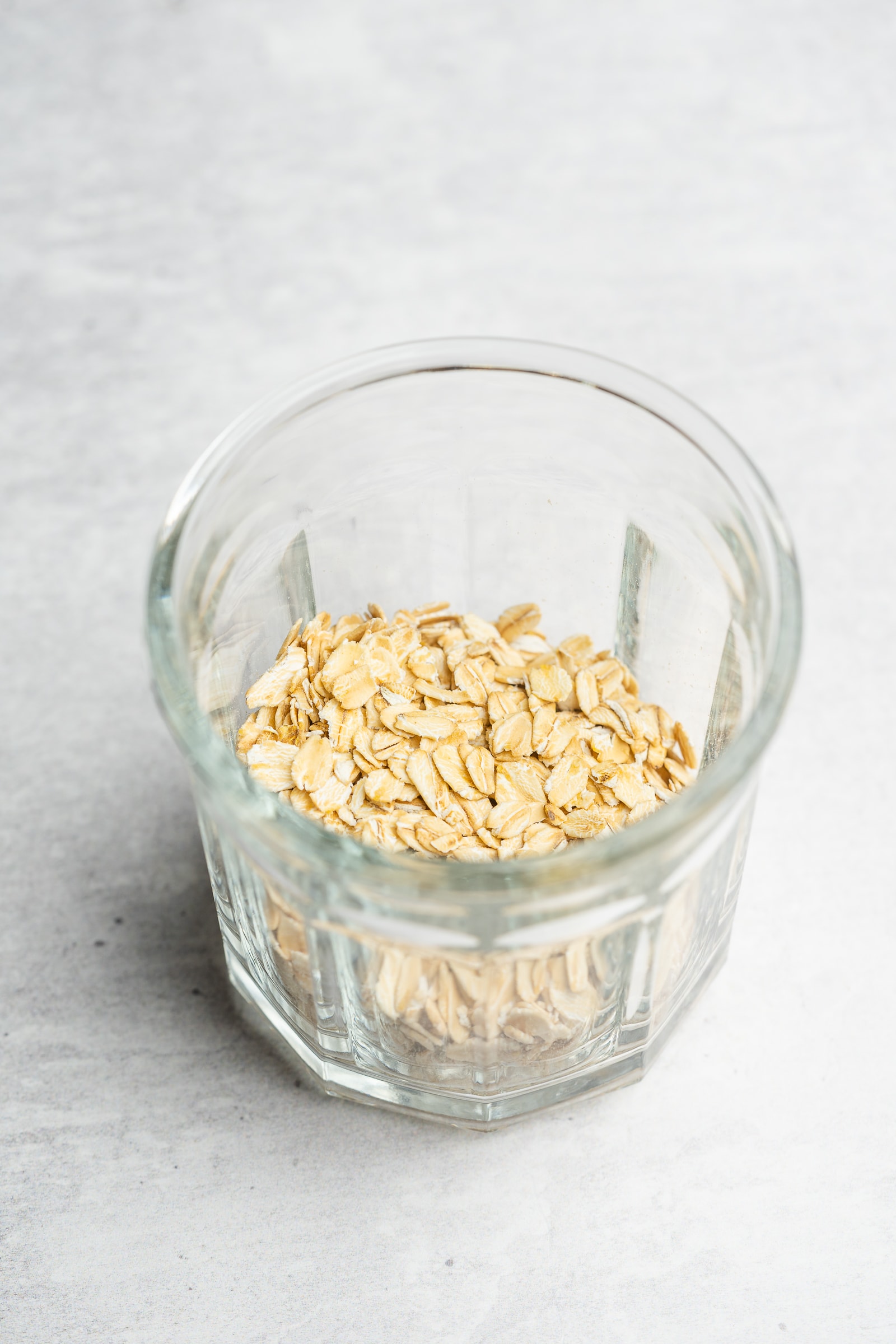 Plant-Based Protein Powder
Protein powder is a great alternative to yogurt for those who are looking to add a boost of protein to their smoothies.
It can be found in a variety of flavors including chocolate and vanilla.
Mashed Sweet Potatoes
Cooked and mashed sweet potatoes can be added to smoothies to create a thicker consistency. Keep in mind, that adding mashed sweet potatoes will add flavor.
You can also use pumpkin purée.
Frequently Asked Questions
How do you make a smoothie thicker without yogurt?
Using frozen fruit instead of fresh fruit will result in a thicker smoothie.
Is yogurt necessary for smoothies?
Not at all. Yogurt adds creaminess but that can be replaced very easily with frozen banana, avocado, vegan yogurt, or coconut milk.
What can I use instead of milk in a smoothie?
Non-dairy milk is an easy swap for milk in smoothies! My favorite plant-based milk option for smoothies is oat milk. You could also use orange juice, coconut water, or water.
What is the best yogurt substitute for smoothies?
I think vegan yogurt, frozen banana, and coconut milk are the best yogurt substitutes for smoothies.
What are the best brands of vegan yogurt?
My favorite brands of vegan yogurt are Kite Hill and Silk. VegNews has a list of vegan yogurts!
Smoothie Recipes
Conclusion
Choose a substitute that best fits your needs!
If you are trying to add a boost of nutrients, go for hemp seeds or chia seeds. Or try adding oats or protein powder.
If you are trying to add thickness, make sure you are adding frozen fruit or frozen banana.
If you are trying to add flavor, go for plant-based yogurt or nut butter.
To add creaminess, try coconut milk ice cubes or avocado.
Hope you found this article helpful!
Disclosure: This page contains some affiliate links. Please know that I may receive a percentage or commission from a link included on this page, at no extra cost to you. I will only ever recommend a product that I have used and believe has substantial value to my readers.